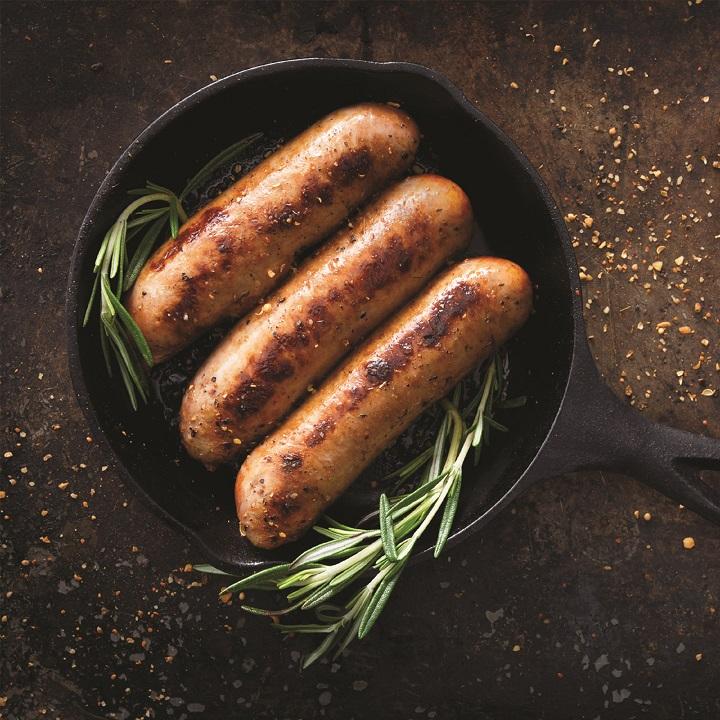 Miami Vegan Lincolnshire Sausages – 90 x 40g Sausages (frozen)
Miami Burger's tender and succulent Lincolnshire sausages are made using finely blended plant proteins from peas and soya beans.
They've health-hacked the sausage business so that your customers can enjoy a super tasty sausage that is 85% lower in saturated fat versus animal-based sausages.
Cooking Instructions from Frozen
In a traditional oven: Preheat oven to Gas Mark 6 / Fan 180°C. Place on a baking tray and cook in the middle of the oven for 14-16 minutes, turning halfway through cooking.
Under the Grill: Preheat the grill to a medium heat. Place on the wire rack of a grill pan. Cook for 10-12 minutes, turning occasionally.
In a frying pan: Heat 1tsp (5ml) oil in a frying pan on a medium-low heat. Cook for 12-14 minutes, turning regularly.
Ingredients: Water, Textured SOYA protein (11%), Rapeseed Oil, Textured Pea Protein (9%) (Pea Protein, Pea Flour), Seasoning (Salt, Maltodextrin, White Pepper, Mace, Nutmeg, Coriander, Beetroot Powder, Onion Powder, Yeast Extract, Paprika, Ginger, Allspice, Thyme, Natural Flavouring, Flavouring, Antioxidant : Citric Acid, Spice Extract, Garlic Oil), Potato Starch, Maize Flour, Stabiliser : Methyl Cellulose, Maltodextrin, Dextrose, Konjac, Sage, Black Pepper, Casing (sodium alginate, konjac gum, guar gum)
Allergens: Contains SOYA.
Full product specification, available upon request.